More exclusives and giveaways at this year's San Diego Comic Con has been revealed at Wall Street Journal and Yahoo. LEGO has plans to reveal over 20 exclusive sets and many other life-size models from Star Wars, Teenage Mutant Ninja Turtles and the LEGO Movie.
The minifigure shown  below is the "Collector" from the new Guardians of the Galaxy movie. This minifigure will be given away at the LEGO booth during the July 2014 San Diego Comic Con.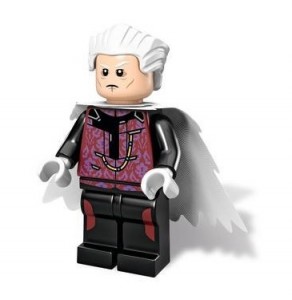 In regards to the LEGO Movie, there's an image for a new Uni-Kitty figure where she can change from "Cuteskitty" to "Cheerkitty" with a flick of the wrist. There's also a new LEGO Movie set (shown on the right) which features an angry Uni-Kitty, a Skeleton Robot and a Batman minifigure. It will also come with a Micro Manager. The set will be available in January 2015.

San Diego Comic Con Exclusive Sets for Sale
There will also be a new LEGO Star Wars Rebel Ghost Millennium Falcon-esque freighter set for Comic-Con. Includes an astromech droid Chopper minifigure. Another set will be the Batmobile from the classic TV series. Both sets will be priced at the same point as the LEGO Guardians of the Galaxy Rocket's Warbird at $39.99. A total of 1000 of each set will be available for sale at Comic-Con with a cap of 250 per day. Visit the LEGO booth at the convention for more details.