May 21 Update: Sold out at Target again and Amazon has also put their price back up from $19.
8pm PST Update: The stock level for Sith Nightspeeder is changing all the time. Its back instock at the moment so order now!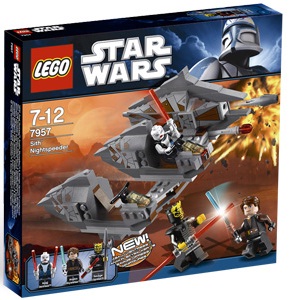 Forum member SpaceViking informs us that this week from May 20-26, Target will be offering 10% off Imperial V-Wing Starfighter and 4×4 Fire Truck. Most of the other Star Wars and City sets are 5% off (excluding online exclusives).
The sale isn't that great, but eagle eye members dho7622u and bigdaddy reports that there's a really good deal on the Star Wars Sith Nightspeeder set at Target.com. On sale price for it right now is $16 (reg.$24.99) which works out to be 36% off in savings!
Follow and like Toys N Bricks: