The latest LEGO Ideas Project Creation to achieve 10 000 supporters is LEGO Ideas Project Creation Bag End by saabfan. Congrats! Your project would now be headed to the LEGO Ideas Review Stage where it would be evaluated to potentially become the next official LEGO Ideas set.
LEGO Ideas Project Creation The Hobbit Bag End Description
"In a hole in the ground there lived a hobbit. Not a nasty, dirty, wet hole, filled with the ends of worms and an oozy smell, nor yet a dry, bare, sandy hole with nothing in it to sit down on or to eat: it was a hobbit-hole, and that means comfort."
― J.R.R. Tolkien, The Hobbit
Thank you for checking out my latest project idea depicting Bilbo Baggins' home: Bag End, the most comfortable and luxurious Smial in the entire Shire!
Open up the circular green door to reveal the detailed interior with the entrance hall, kitchen, parlour, bedroom, bathroom, pantry, study and storage room. On the outside there's a garden with a well, a vegetable patch and stairs leading up to the top of the hill where you can find a clothes line and a bench to relax on beneath the oak tree. The proposal includes a red book-shaped base for the model paying homage to J.R.R. Tolkien's timeless classic that is The Hobbit. It features the well known quote from the beginning of the book. Albeit inspired by the fantastic movie adaptions this model represents my own interpretation of the famous Hobbit hole and I tried to include as many features from the books as possible. For ease of access to the interior the roof can be removed. The model is built out of 2964 parts and includes two minifigures: Bilbo Baggins and Gandalf the Grey.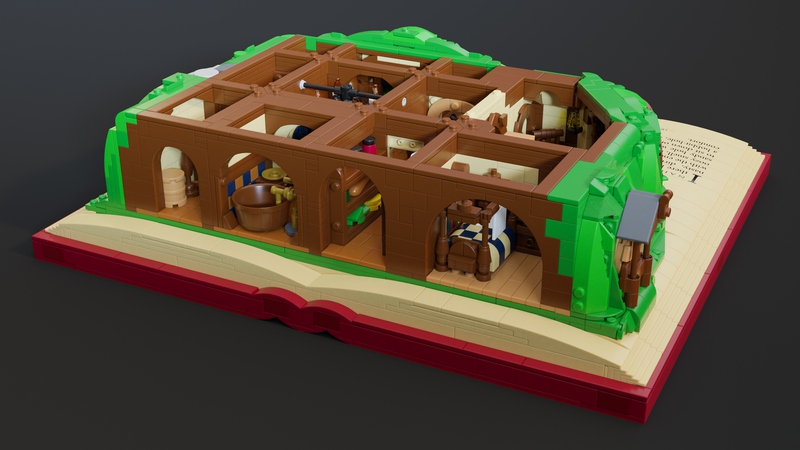 Toys N Bricks is your destination for the latest and hottest LEGO News, Sales News, Creations and Reviews! (
www.toysnbricks.com
)
Visit the new 2020 Toysnbricks LEGO Forums for LEGO Related Discussions.
Subscribe by Email and Follow Us on Facebook, Twitter, Instagram and Flickr.