Update: The US eBay listing has ended now. Sold at $500.
An eBay listing has revealed the first images of the highly anticipated LEGO Mr.Gold Minifigure from the new LEGO 71001 Series 10. The German seller has the price listed as EUR 999.00 ($1300). Number 865. Thanks to Jonathan and forum members BrickWild and lordbrick for the news.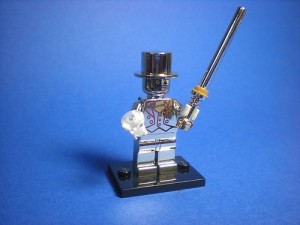 Another eBay listing also shows another picture of Mr.Gold. This US seller has it listed at $3000 or best offer. Number 4628. The seller's location is in Portland, Oregon where it is one of the States that Fred Meyer stores are located (their stores are now carrying Series 10 minifigures).
With only 5000 of these minifigures released worldwide, this obviously is going to result in a shortage. I'm sure that after we see more of these listings (and they go off via auction), we'll see the real market equilibrium price. Back in 2007, something similar happened when LEGO randomly inserted 10 000 Gold-plated C-3PO minifigure in 2007 LEGO Star Wars sets. When they first started appearing, prices were very high. As more of them started appearing, the prices for these minifigures went to about $100 on eBay.
If you really want one of these Mr.Gold minifigures and planning to fork out this much money, we would advise finding it yourself first. If you do some simple math, you can already buy 433 Series 10 minifigures already (7 boxes) with $1300. For the $3000 price tag, you can get 1000 Series 10 minifigures (16 boxes).