Thank you to everyone that voted for the "Design a LEGO Star Wars Micro Build Scene Set Building Contest (July-August 2020)". There were lots of great entries! Total number of entries is 24.
Two winners will receive a LEGO Star Wars Prize Package. All items are brand-new. Prizes are sponsored by Toys N Bricks.
Grand Prize (2 winners)
(1) 2009 LEGO 8014 Clone Walker Battle Pack
(1) 2010 LEGO 30050 Mini Republic Attack Shuttle
(1) 2011 LEGO 30052 Mini AAT
(1) 2011 LEGO 30053 Mini Republic Attack Cruiser
(1) 2009 LEGO 852552 Detachable Minifigure Magnets Boba Fett, Slave Leia, Royal Guard
(1) 2010 LEGO 852843 Detachable Minifigure Magnets C-3PO, Princess Leia, Admiral Ackbar
(1) 2010 LEGO 852845 Detachable Minifigure Magnets Han Solo, Paploo Ewok, Scout Trooper
To find out who the two winners are, visit the Toysnbricks LEGO Forums.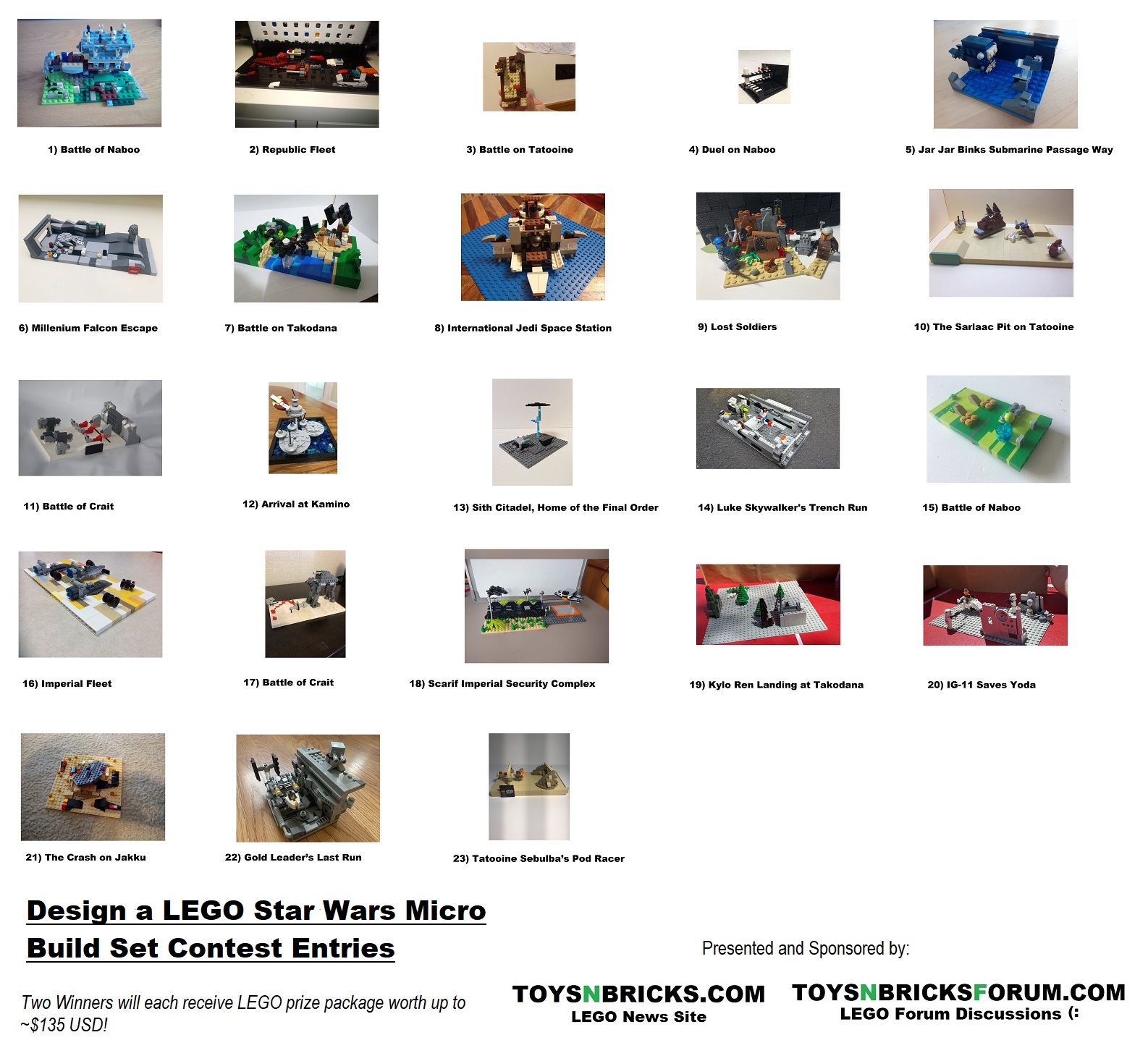 Toys N Bricks is your destination for the latest and hottest LEGO News, Sales News, Creations and Reviews! (www.toysnbricks.com)
Visit the new 2020 Toysnbricks LEGO Forums for LEGO Related Discussions.
Subscribe by Email and Follow Us on Facebook, Twitter, Instagram and Flickr.
Follow and like Toys N Bricks: